Fire up this bad boy! (web app works with ANY platform)
Select Youtube or Google
to tap into
Enjoy red-hot profitable keywords for your websites & videos
hundreds of relevant keywords NO ONE ELSE is ranking for, to get free organic traffic for your videos OR pages - all with just a single click of a mouse.
Our software helped us seamlessly generate high-converting, easy to rank for keywords which brought in amazing traffic, leads and revenue for our business.
Now - you get the same opportunity!
You Get All This In Keyword Suggestion

---
Powerful and intelligent software
Keyword Suggestion  will uncover hundreds of keywords for you in seconds - and these will all be long-tail, untapped keywords
1-click solution
Keyword Suggestion allows you to generate ONLY the keywords nobody else is ranking for, but everyone is searching for!

Private Keyword Gathering Technology
Keyword Suggestion works unlike any other keyword software, allowing you to tap into Google's & Youtube's Auto-Complete databases
Works with videos AND regular websites & pages
Keyword Suggestion will help you in your business if you're looking to rank your existing videos & websites for fast and easy profits, as well as give you ideas for future videos & content
100% Google Proof
Because it deals with questions, rather than keywords, Keyword Suggestion works perfectly with all the latest Google updates

Easy to use
This effective software is so easy to use that even newbies can use it without getting lost

Effective reports
You get all the data you need from helping you generate ideas to competition analysis so you KNOW which keywords are the best even before you start!
Look - It Doesn't Even Matter What Niche You're In...
... This Tool Will Find You Keywords with ZERO competition and lots of searches!
If you want passive online income for years to come, organic traffic from ranking your pages, videos & content is hands down the best option out there.
Every day people are searching for solutions to their problems in Google and Youtube and desperately click on results that present them with that "quick fix". They then buy products, click on ads or sign up to email lists.
It's literally a virtual goldmine waiting to be tapped... and it's just getting better and better with every click.
95% of the people building websites or videos and trying to monetize them target high competition keywords such as "lose weight" or "make money".
They are literally THROWING away their time and money down the drain... it's great to have a goal - but unless your budget is in the multiple tens if not hundreds of thousands for an SEO campaign - you're NOT going to get there.
As a result a lot of people became skeptical about making money with their websites & videos the FAST, EASY way - through organic traffic.
Does Any of this Sound Familiar?
You put in hours building your website, doing keyword research and writing super high quality articles, just to realize that nobody reads your site since it's buried in Google's search results.
Or likewise, you invested in the best video creation & distribution tools out there, just to have your professional videos never being viewed, because of poor Youtube rankings.

You end up paying a lot of money for that "secret" SEO method or video software that is supposed to take you to the top, but instead nothing happens.

Or even worse, you start seeing traffic, but nobody actually buys your affiliate products, clicks on your ads or signs up to your email list.
... And it's ALL because you've been targeting
the wrong keywords all along!
Isn't It About Time That Keyword Research Became Simple Once and For All?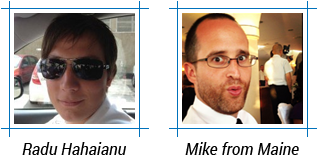 From: Radu Hahaianu & Mike from Maine
Dear Discouraged Website Owner,
I'm Radu and YES... I TRULY know how hard it can be to find and target the right keywords that can make you a lot of money.
You see, over the last few years, I have dramatically improved my rankings and as a result, I've successfully grown my businesses using smart keyword research and SEO as one of my primary traffic sources.
Even though I'm seeing results that can make you feel dazzled right now, it wasn't always that easy for me, so I can understand and relate to how you're feeling right now.
When I first started doing keyword research and SEO, I lost a lot of money (still hurts to remember how much money I wasted). I was no different than how you are probably doing right now.
I would spend long hours trying to research the perfect keywords, crafting those amazing articles and then patiently waiting... I Expected Traffic To Start Flooding In... But Instead I Got ZERO Visitors. That was discouraging and depressing.
Instead of starting to make money, I was losing it by paying hundreds of dollars for SEO campaigns that promised to deliver "server-melting results". It seemed like a dead end with no hope.
I was facing the same set of common problems most marketers are facing when doing keyword research
Chasing high competition keywords that would require thousands of dollars to rank for – and sometimes, even if you'd pay that much, you won't get ranked well!
Choosing keywords that don't focus on commercial intent but instead, target useless keywords.
Spending long hours trying to find keywords with decent search volumes, good CPC, and yet failing miserably to pick out the best ones (a very common mistake).
Naturally, all lead me to think….
"There are just no good keywords left!"
I was starting to believe that Google & Youtube were a hard-to-master traffic source and that I would never be able to make money from them... But, SUDDENLY I got this crazy idea that changed everything!
You see… There ARE effective ways to get just as high quality traffic as the ones coming from top tier keywords like "weight loss" - without the hassle of spending weeks targeting tough keywords or shelling out thousands of dollars...
Let me ask you a SIMPLE question:
Would you target 10 keywords that get 1,000 searches a month instead of 1 that gets 5,000 searches? I'm sure that you probably would say you'd rather stick with that 1 keyword that has the most searches...
But let me tell you that this option is a really bad choice.
Let me explain...
That 1 keyword is nine times out of 10, going to be a LOT harder to rank than smaller ones, often more than 10x harder...
That 1 keyword will most likely have a ton of advertisers who are "dominating" valuable organic result spots.
That 1 keyword can be hit by a feared Google update and your rankings could disappear in the blink of an eye.
If 1 out of 10 gets hit, you're only going to lose 10% of your traffic - NOT 100%.
Look - it's a lot better to rank for multiple smaller and easier keywords than one large, hard keyword. It will save you many headaches in the long term, trust me.
However - how do you find those keywords? It can take days to find that 1 great keyword, if I want 10 - do I have to take weeks?!
NO, NOT AT ALL!
We have coded a revolutionary piece of software that will find those keywords for you automatically and so easily that you'll laugh! To put it simply - it will change the way you rank your websites and the keywords you choose...for the better.
But Don't Just Take My Word For It
Here's what previous satisfied customers have said
about my "magical" keyword software
When you launch the software, it will take any of your ideas and turn them into thousands of keywords.
The Amazing Idea Generator ($197 Value)
Idea Generator will suggest possible queries for your niche by simply inserting your main keyword there. This is absolutely amazing for taking keyword research to the next level with minimum effort and harvest thousands of keywords from every angle of your niche.
e.g. if your main keyword is "ipod", Idea Generator will offer possible queries such as: how * ipod, how to * an ipod, * foripods etc.
Premium Keyword Generation ($197 Value)
The tool will then go ahead and replace the * in each of your queries from Idea Generator with various letters in Google Auto-Suggest and come up with a ton of keywords like "how much is an iPod" or "How do I get a free iPod". There are two examples of keywords people are actually searching for. They are long-tail and highly targeted. Even more important, they are very easy to monetize.
By clicking on any of the harvested keywords, you will get vital information about it right within the app. You will know how many times a keyword is searched for, how competitive it is, and how likely it is to bring in not only traffic but also revenue for you.
As you can see, the tool will produce a list of thousands of keywords that are extremely relevant to your niche AND easy to rank for.
Here's what's ALSO included with Keyword Suggestion
Fantastic Web App & Desktop Version
(Value $297)
With Keyword Suggestion, you can use either our cloud-based application, or go with the offline-stored desktop version. It's your choice and either way, you have the power of unparalleled keyword research right at your fingertips with just one click.
Enter Video Marketing
(Value $197)
That's right - with Keywords Suggestion you're not just limited to Google. You get an UNFAIR advantage over your competition by tapping into Youtube for your videos. It's such a versatile tool, it's actually several software into ONE.
Total value for this amazing 3-in-1 tool: $1,085
Although I could easily charge you that (my tool is really invaluable when it comes to keyword research)… Don't worry, it's going to be much less. In fact, it's going to be less than you think and the price will make you giggle.
Other marketers would sell this amazing tool for a lot of money, but I've decided to offer it to you at a very competitive and rock-bottom price.
Now, I know that you're eager to know about the price, but let me tell you what sets my piece of advanced software apart from the competition.
"There are probably hundreds of keyword tools
out there – what makes yours special?"
To put simply, the other keyword tools don't focus on commercial intent. If you don't believe me, just go and have a look for yourself and you'll see what I mean.
Let me give you an example …
There is no point ranking for "white paper" when you can rank for "buy white paper"… "White Paper" has no commercial intent, but "Buy White Paper" does. That's the BIG difference between thousands of dollars in your bank account or a BIG fat zero.
You see, long tail keywords yield a higher CPC per visitor meaning you profit MUCH more! Plus - this is a 3-in-1 keyword tool that does more than any other on the market, and does it BETTER on every aspect.
Ah, Now Let's Get To The Price...
We could easily charge hundreds of dollars for a revolutionary tool like this, but we want to offer you an attractive and affordable price that will finally help you to setup your marketing pages in the best possible way - without wasting a ton of money!
Just take action... and I promise you won't be disappointed!
To your success,
Radu Hahaianu & Mike from Maine
P.S. You can try Keyword Suggestion for 30 days without any worries.
Listen, we know there are a lot of crappy software tools out there that will get you nowhere. Most of the software is overpriced and an absolute waste of money. So if you're a bit skeptical, that's perfectly fine. I'm so sure you'll see the potential of this groundbreaking software that I'll let you try it out 100% risk-free. Just test it for 30 days and if you're not able to skyrocket your business and we cannot help you in any way, you will be eligible for a refund - no tricks, no hassles.
Don't Procrastinate - Take Action NOW
Get your copy of Keyword Suggestion!
By now you should be really excited about all the wonderful benefits of such an amazing piece of software. You don't want to miss out on the wonderful opportunity presented today... And then regret later when it costs more than double... or it's even completely off the market!